10 of the best restaurants with food delivery services in Accra (with menus and prices)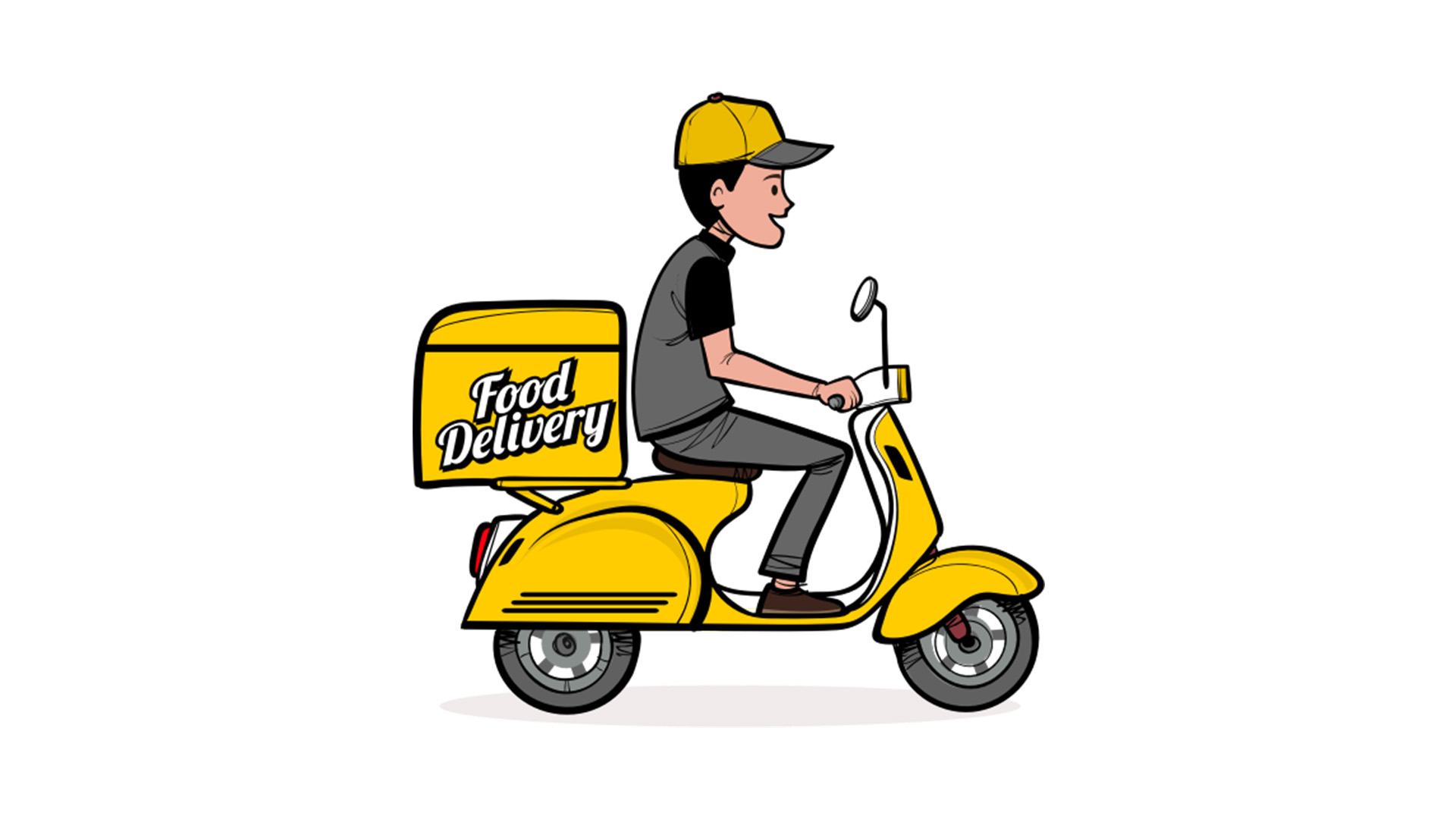 Summary
Since the coronavirus rocked the normal life routine of people across the world, businesses and general lifestyles have adjusted drastically. The restaurant scene and eating out has also changed and made food delivery the main option for enjoying a good meal cooked outside your home. For this reason, I've made a list of options to consider when looking for restaurants with reliable food delivery services in Accra.
The Buka Restaurant
The Buka Restaurant serves predominantly African food. You are guaranteed to get an authentic taste of Ivorian, Nigerian, Ghanaian and Togolese dishes. It is situated in Osu but no matter where you find yourself in the hustle and bustle of Accra, you're sure to get your food delivered to your doorstep. Delivery costs range between GHS 15 to GHS 35 depending on where you are. Popular local dishes on the menu include Waakye, Jollof Rice, Banku and Tilapia, Fufu and Groundnut soup, Yam and Kontomire stew and more.
If you want to go for Nigerian, you can order a bowl of tasty Eba and Egusi stew or Okro stew. You can also order drinks to go with your food. Delivery is relatively swift but mostly depends on which part of Accra you reside. You can call them on 0244 842 464 to place your order.
The Buka Restaurant Menu and Prices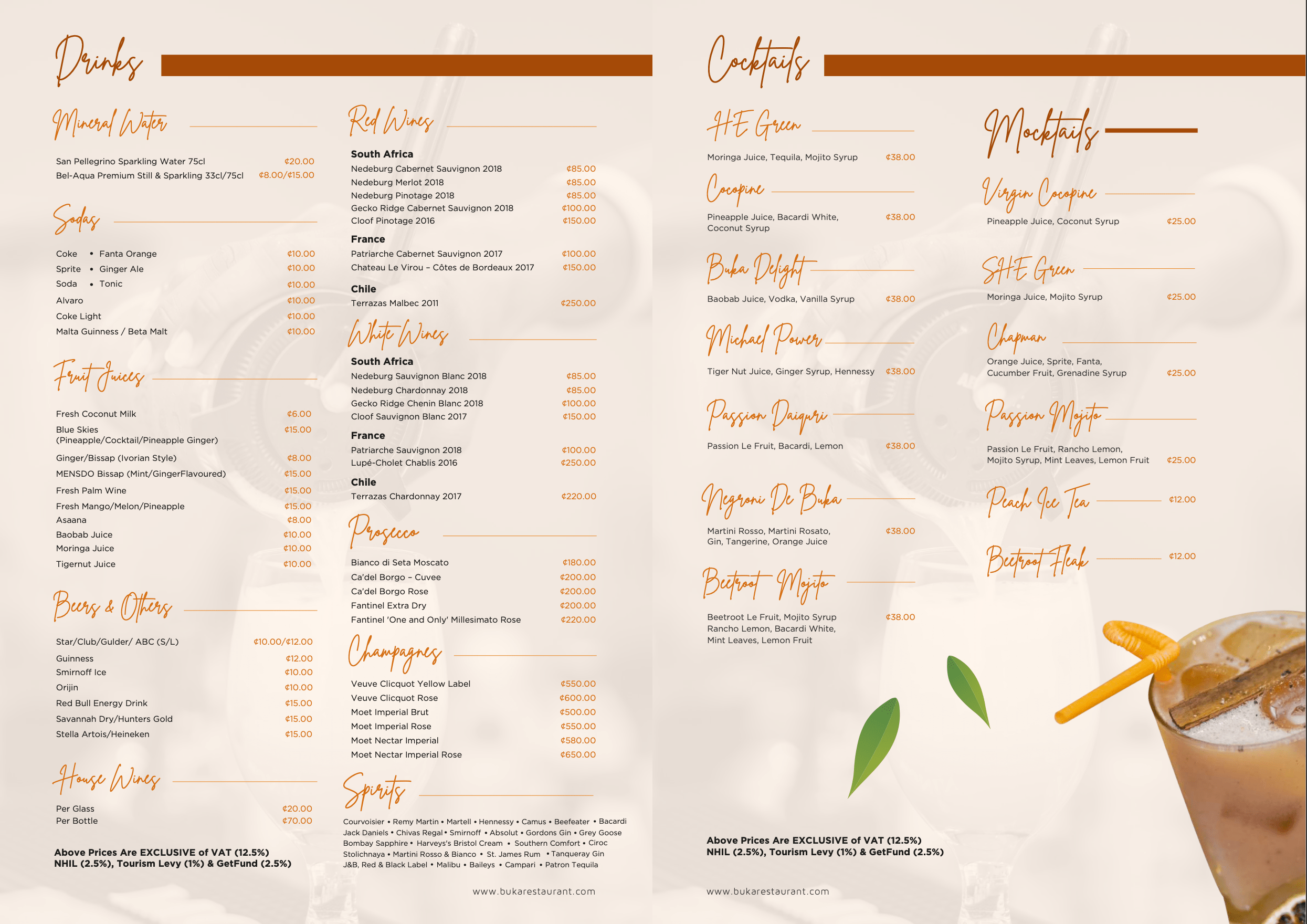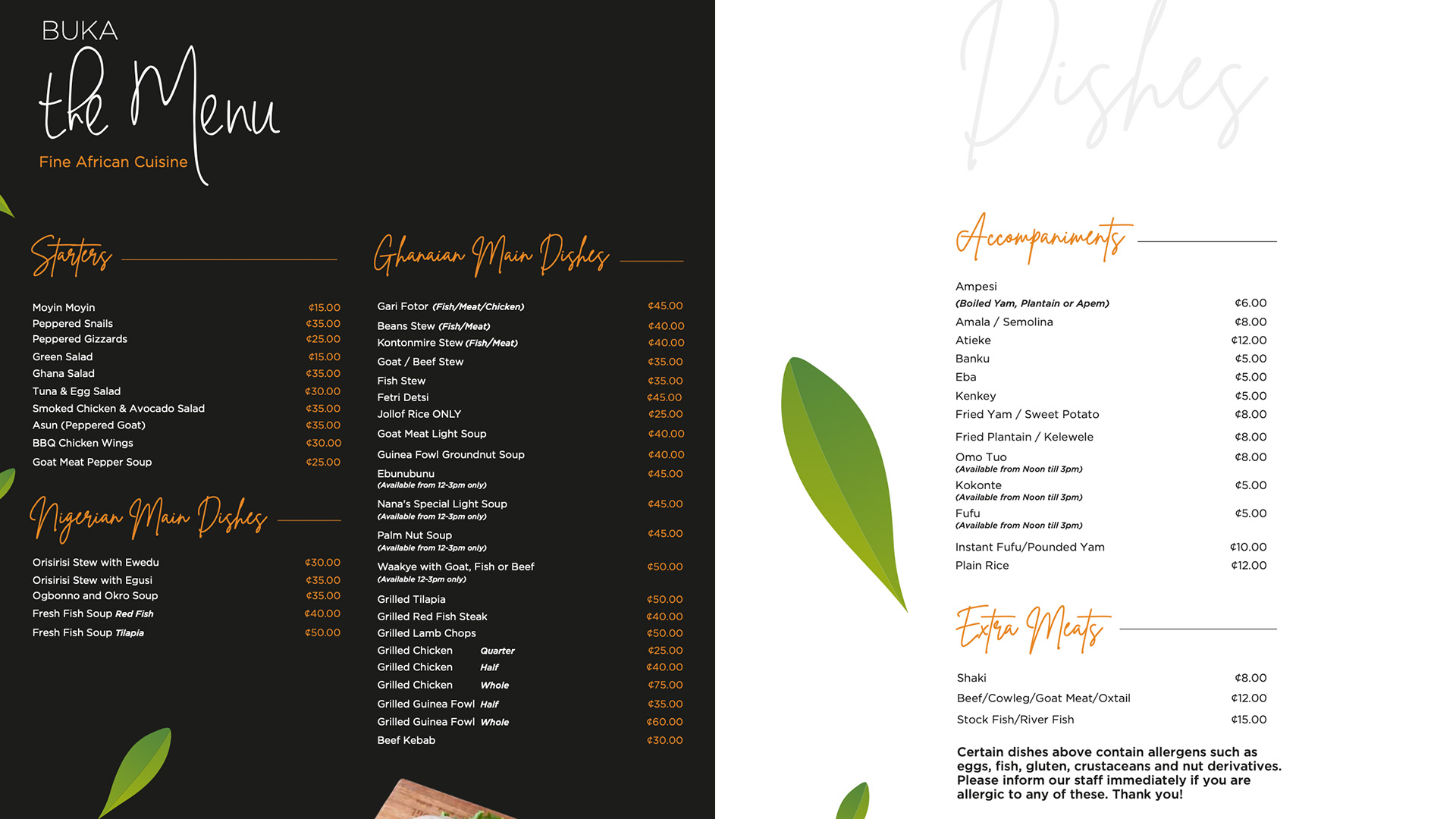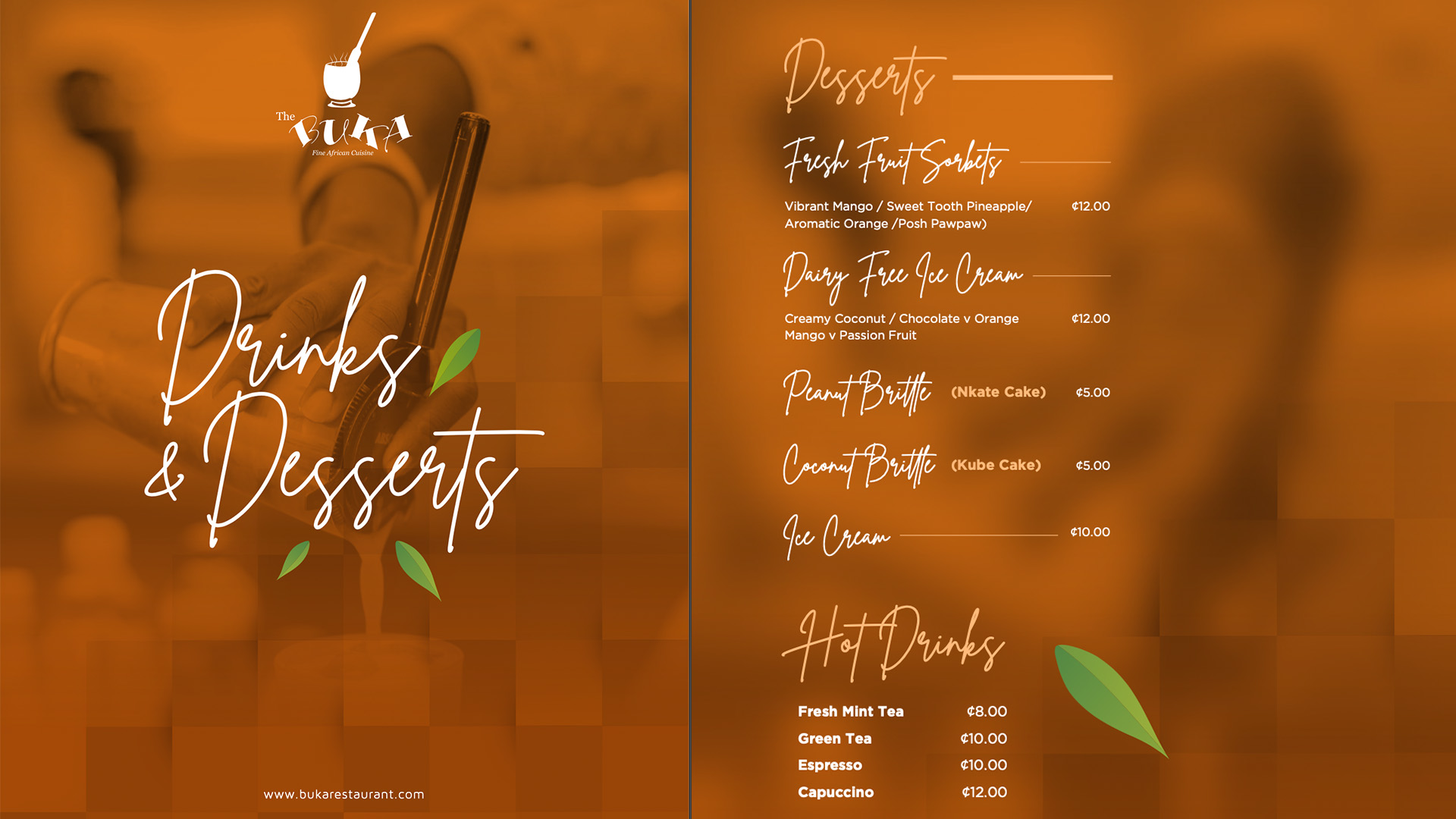 Gold Coast Restaurant & Cocktail Bar
With a wide range of options, Gold Coast Restaurant & Cocktail Bar offers you food from some of the best Ghanaian delicacies to your favorite grills. Located in Cantonments, delivery is free within a 5-mile radius and from GHC 10-20 for locations outside this range. As the name implies, Gold Coast Restaurant serves mostly Ghanaian favorites but you can also order popular European, Asian or European dishes.
The menu options are very broad; for starters they have a variety of salads to choose from. Meat lovers can order the popular Suya (chicken, beef, pork or fish), full or half Akonfem (Guinea fowl), lamb chops and ribs. Vegetarians are not left out as they have a number of delicious vegetarian options available. There is also a variety of pizza options on the menu. Contact them on 030709051 or 0302799834.
Gold Coast Restaurant & Cocktail Bar Menu and Prices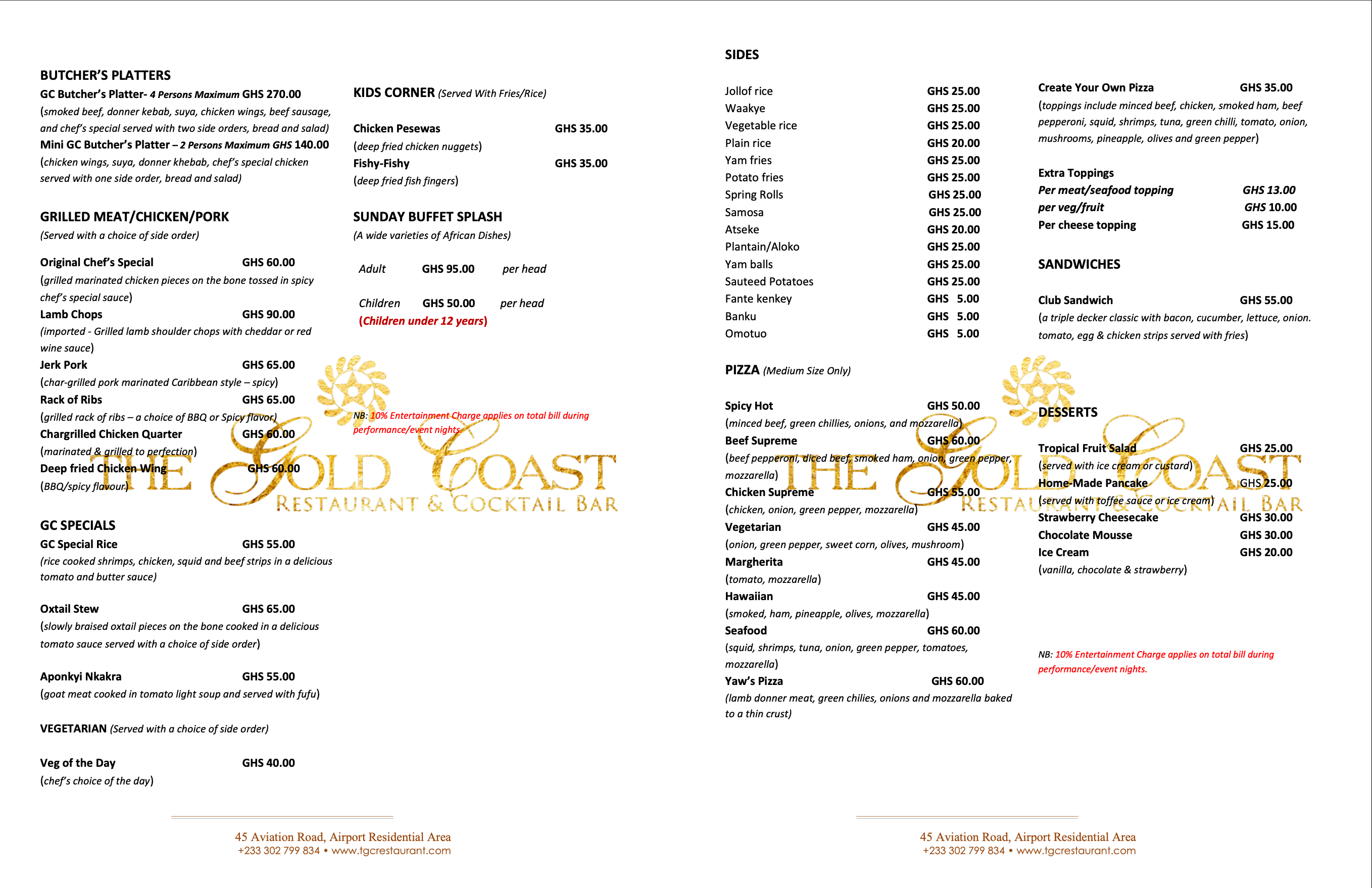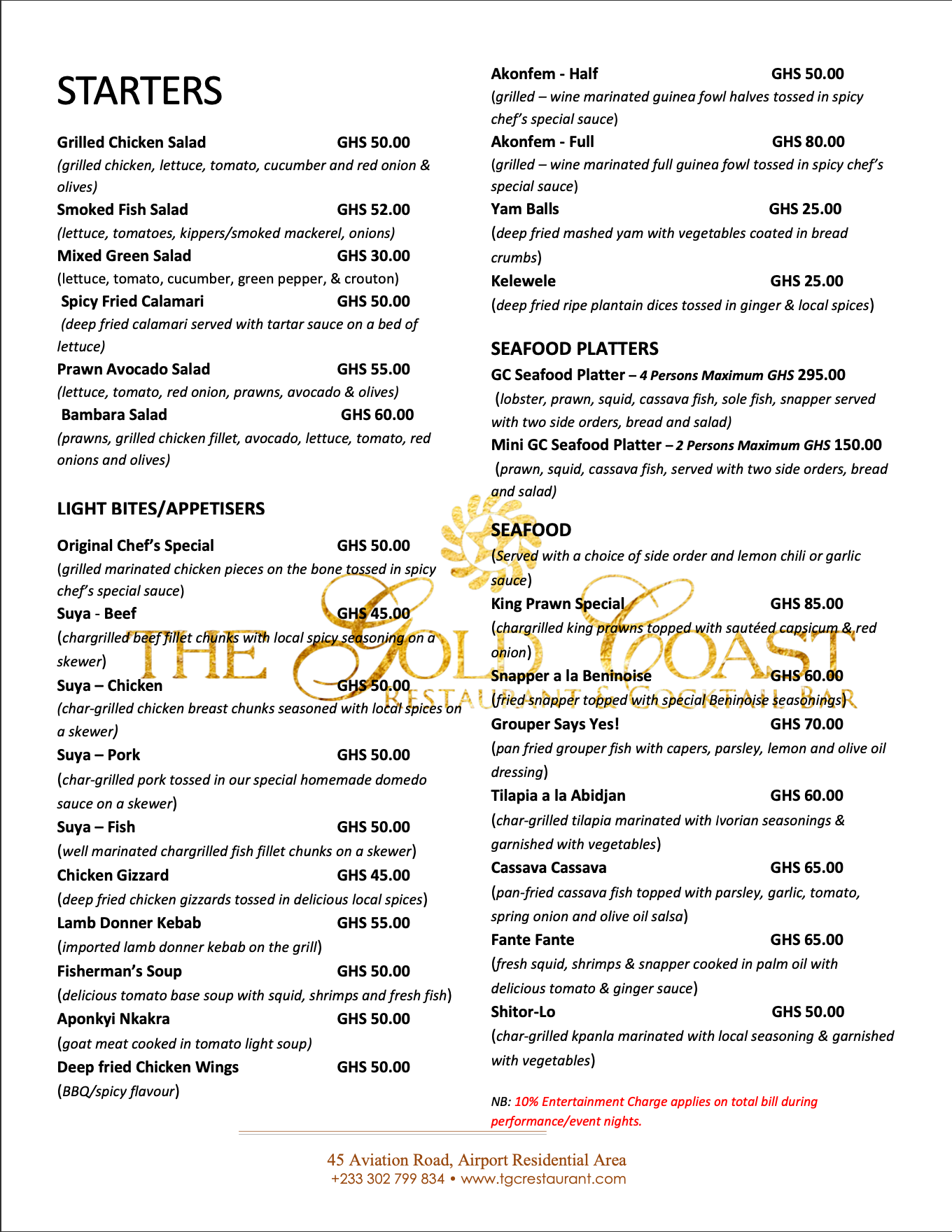 Fatty Grill Local
Looking for tasty grilled meat and seafood options including some Jamaican jerk chicken, grilled tilapia, lobster and king prawns? Fatty Grill has what you want. With fascinating food bound to ignite your taste buds like their tropical rice and spicy seafood, all your craving is certainly catered for.
Delivery runs from 10am-10pm. In case you are undecided what to choose on their extensive menu, the 9-piece coke wings with a side of jollof, fried rice, yam chips or fries is a good choice as it's one of the most popular items on the menu. You can contact them on 0241480030 to place your order.
Fatty Grill Local Menu and Prices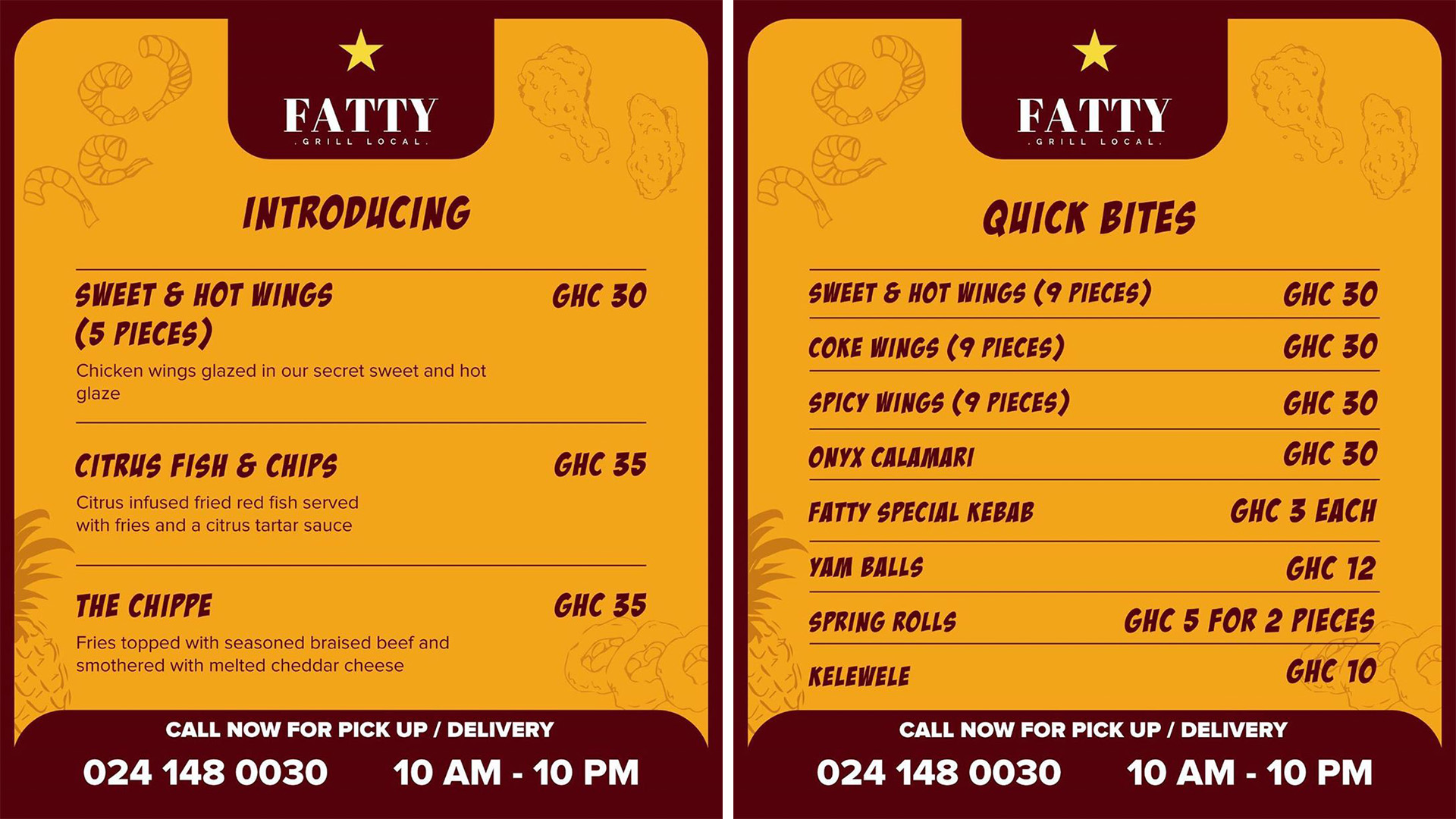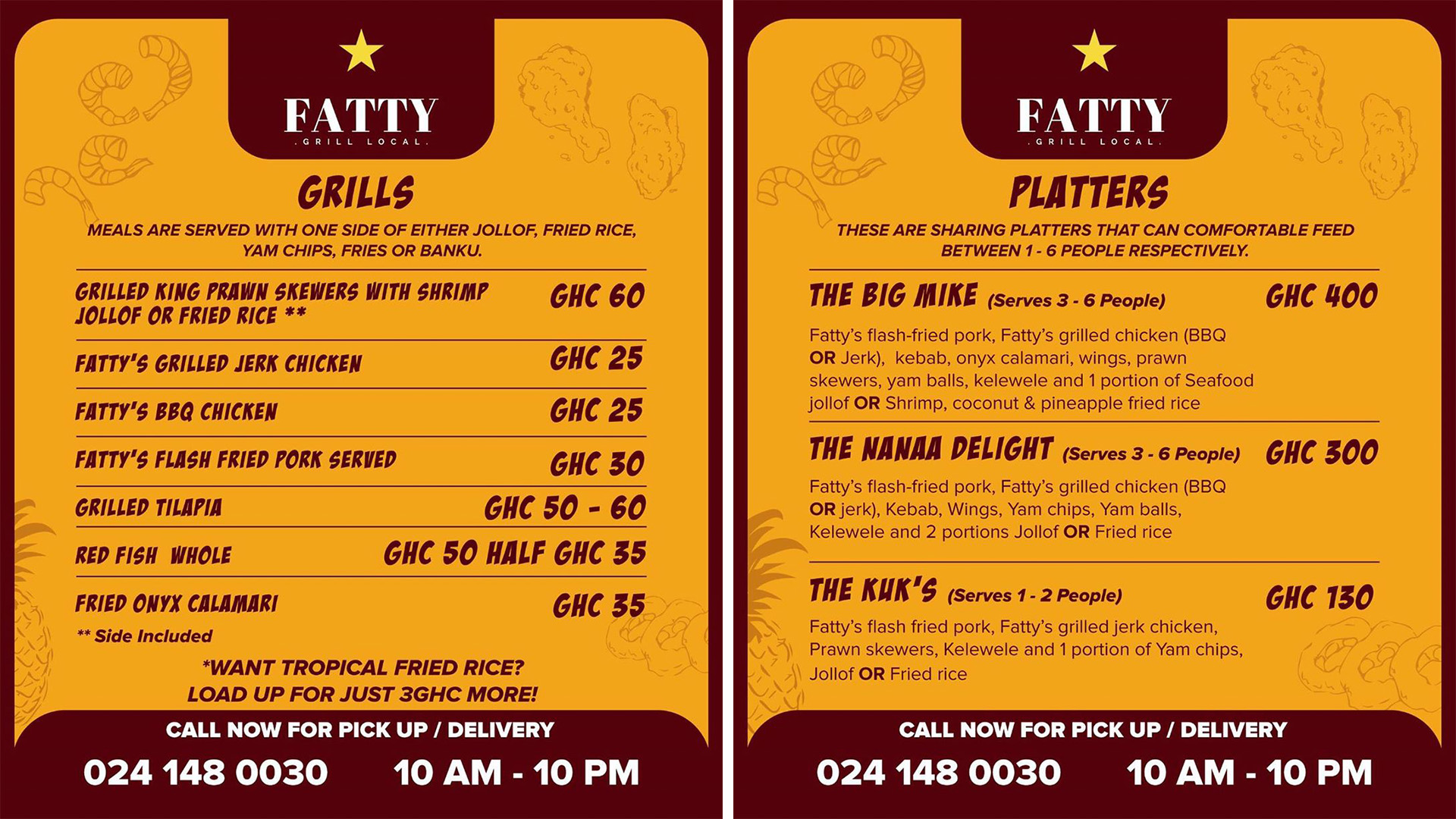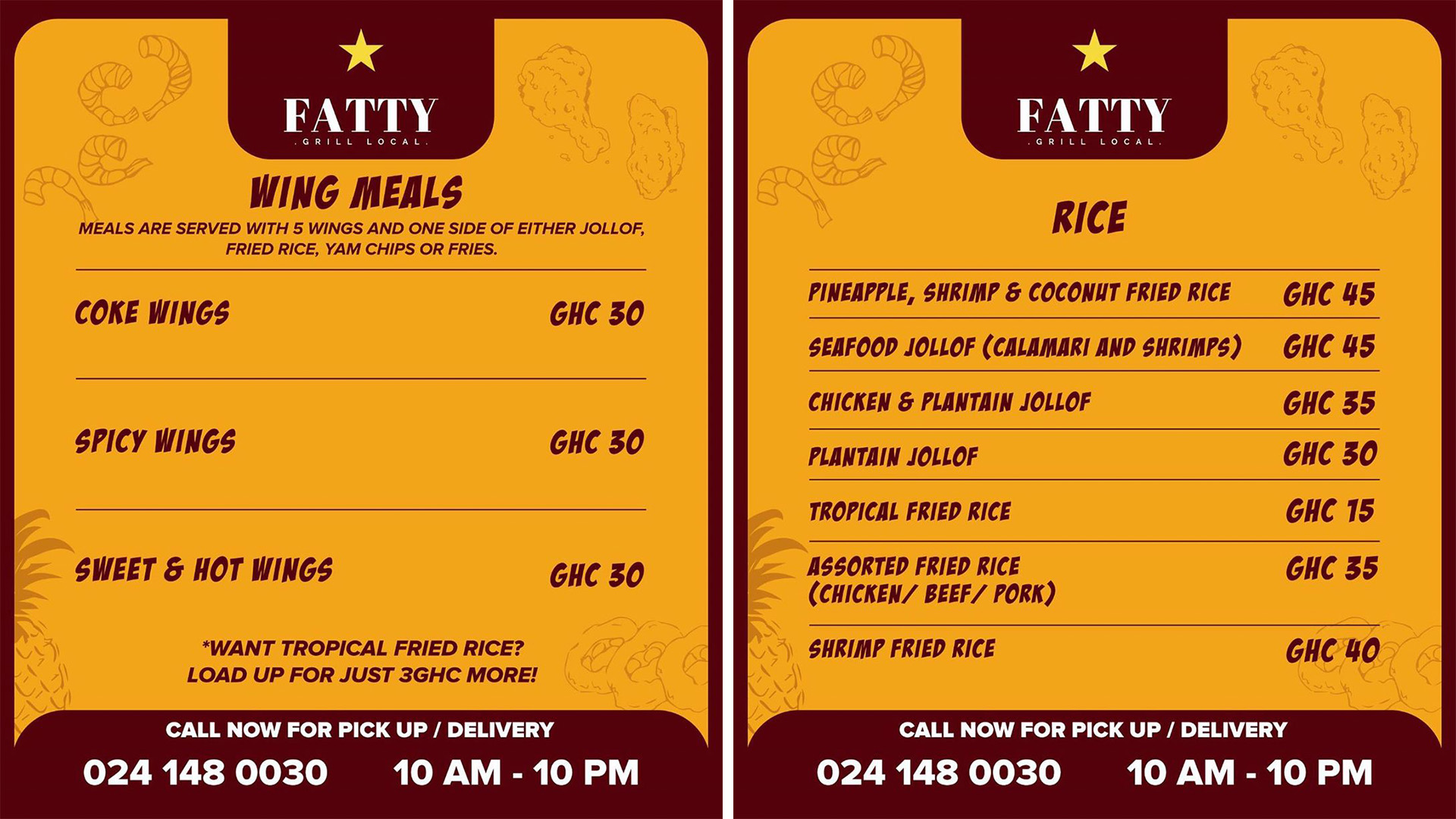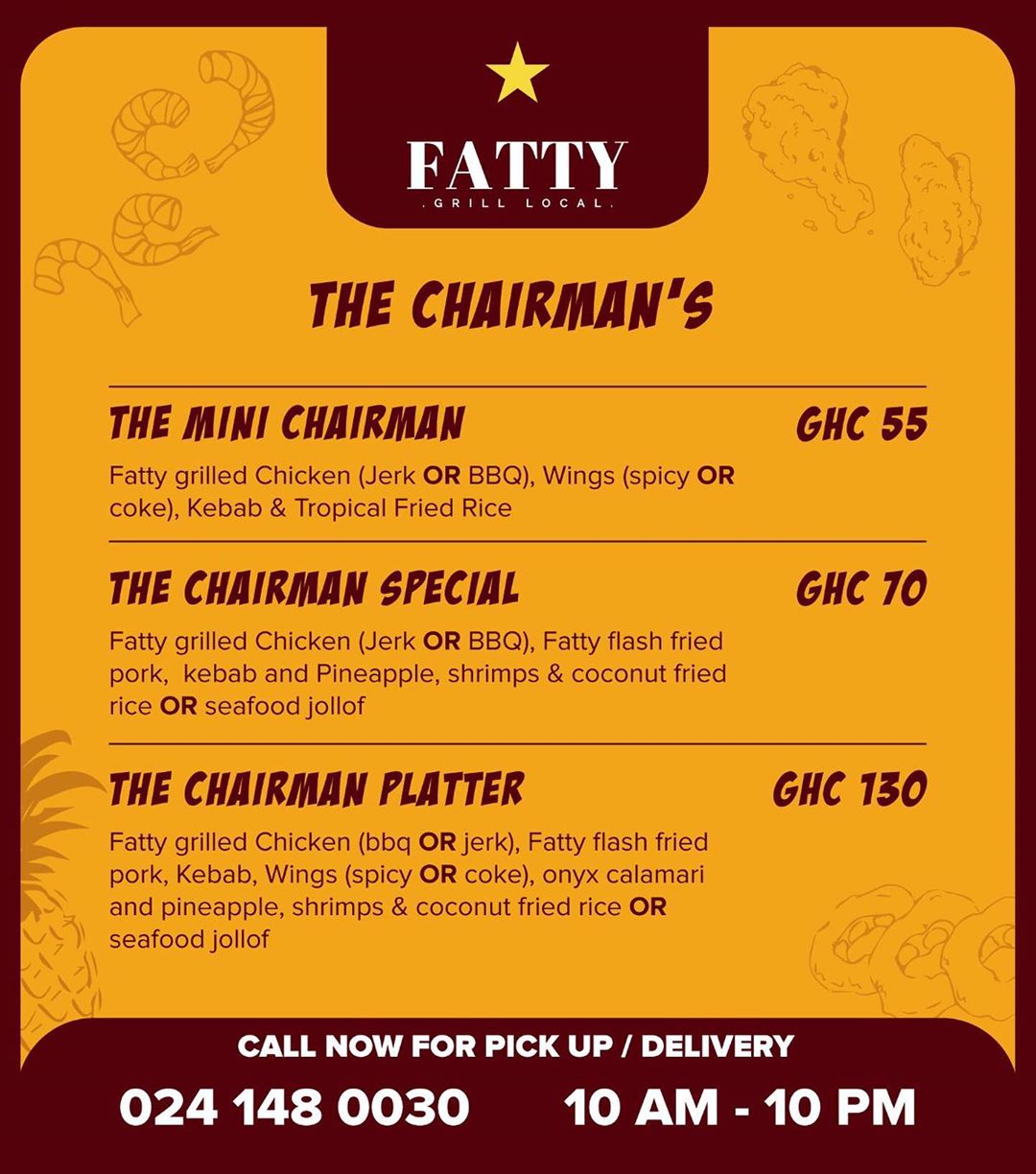 The Chop Bar
Nothing beats authentic Ghanaian food and The Chop Bar can guarantee you that. After all, they are, in their own words, the repository of every favorite meal you can find in the Ghanaian cuisine. With their exciting menu which will have your mouth watering, their delivery service is not disappointing either.
The Chop Bar serves appetizers like kelewele, yam chips, beef samosas, spring rolls and chicken wings. Their main dishes include their signature Champion waakye, Champion noodles, Champion rice and Jollof rice. For those who want to go a little notch more local, you can order fufu or omutuo with a variety of soups.
If you want to get your meals on time, hot and at an affordable price call the Chop Bar on 0303966603.
The Chop Bar Menu and Prices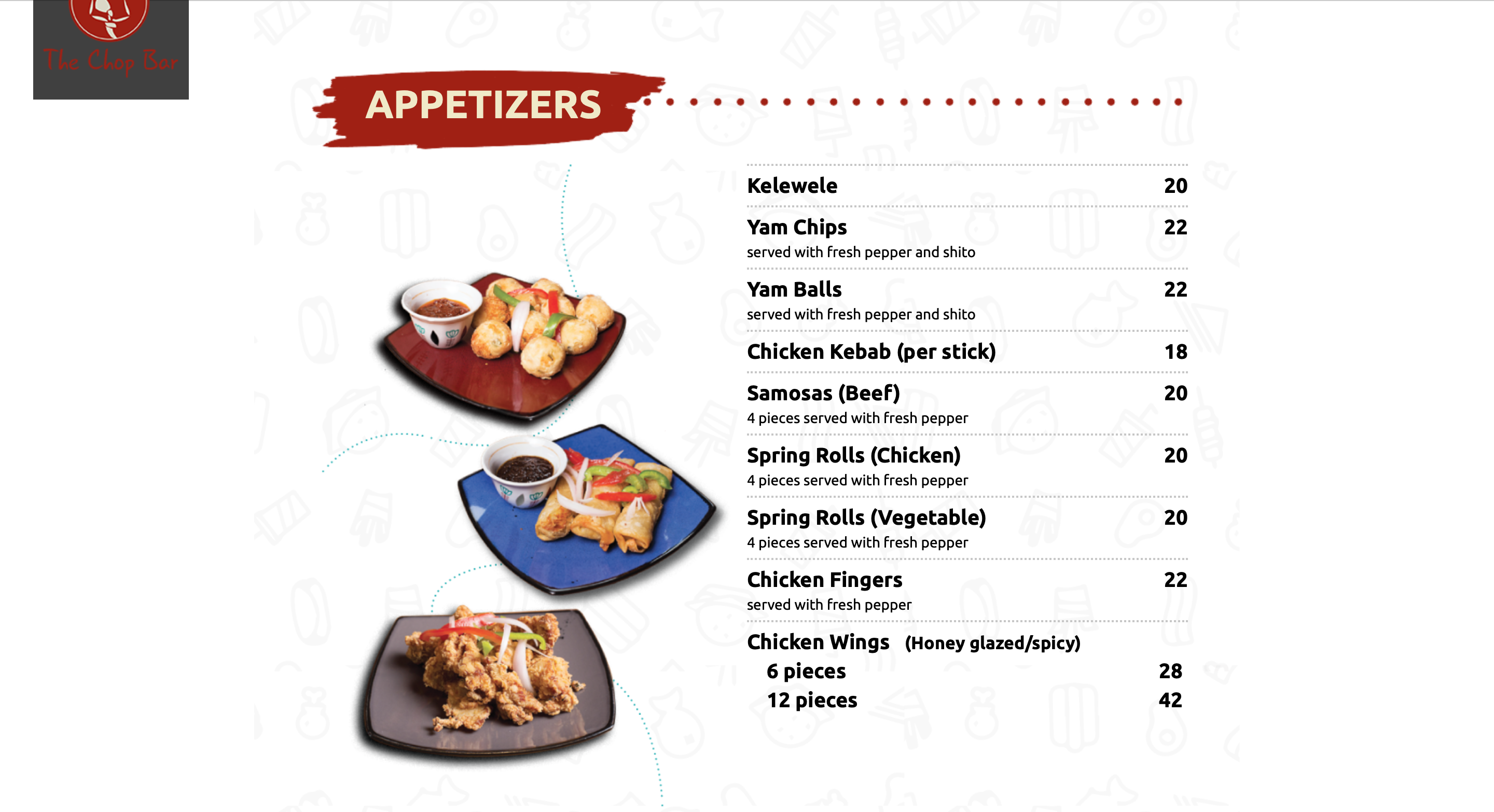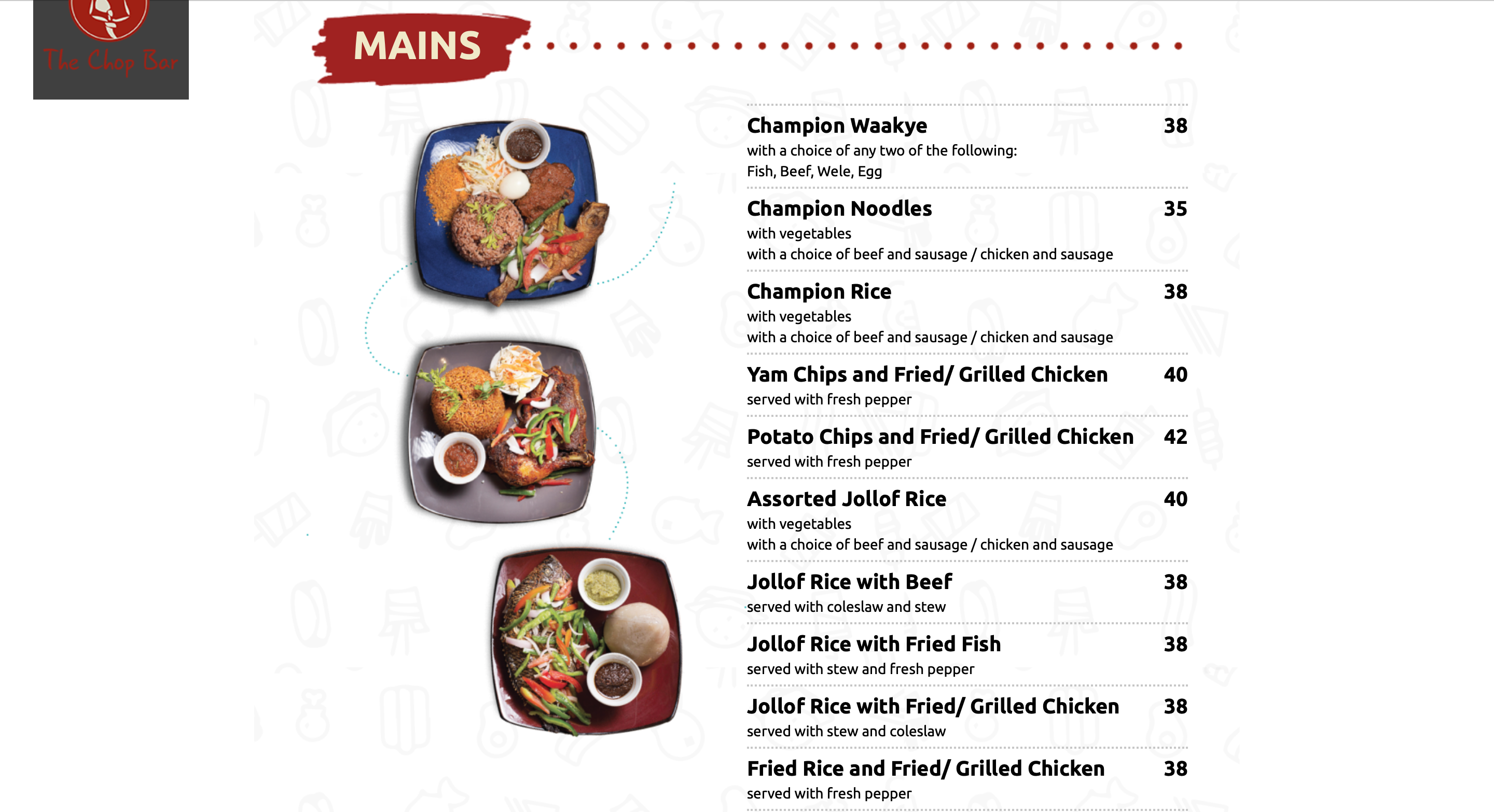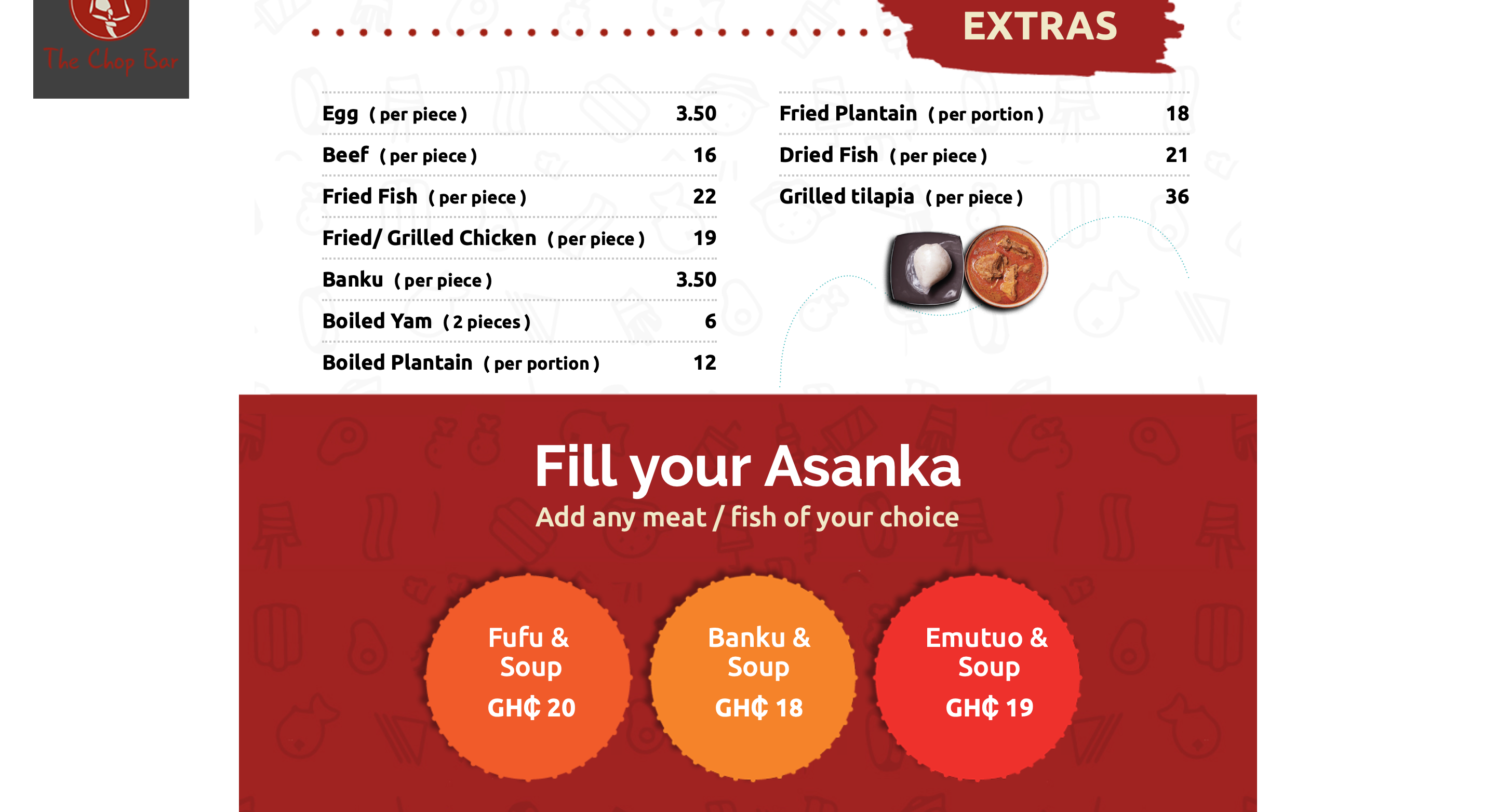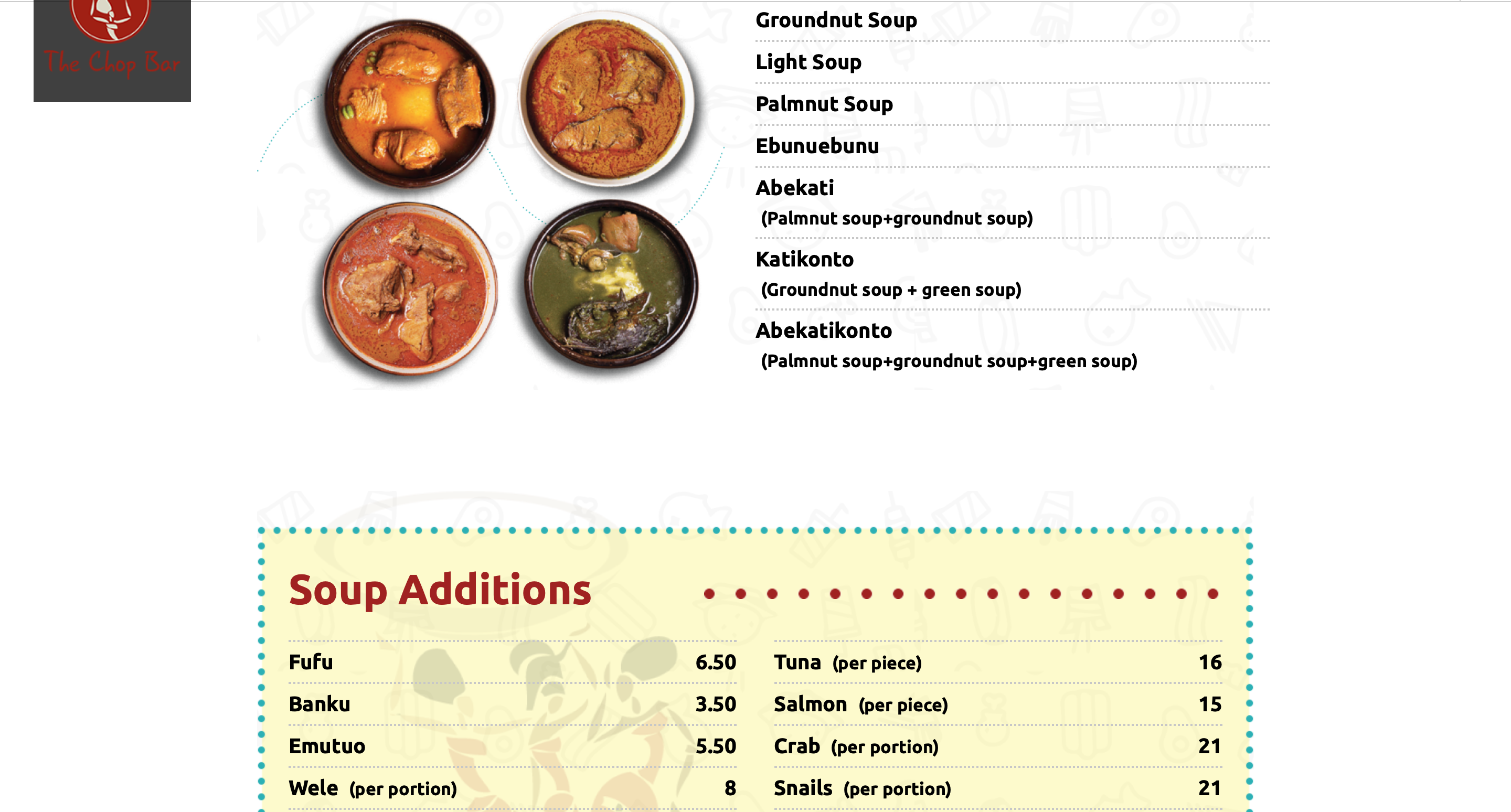 DNR Turkish Restaurant
The perfect blend of Turkish and Ghanaian food is very much what the DNR Turkish Restaurant is all about. Even more fantastic is its free delivery service that covers areas across Accra and even parts of Tema. Be it vegetarian food, barbecued meat, authentic Turkish cuisines or your easy comfort food like pizza, you know DNR restaurant has you covered. To place your orders contact them on 0200290823 via whatsapp.
DNR Turkish Restaurant Menu and Prices







JamRock Restaurant & Grill
To have the best of Caribbean, Jamaican and Ghanaian food, JamRock Restaurant & Grill is the place to try. Located in East Legon, they have some of the best jerk chicken, banku and okra, Attike and fish and all sumptuous Ghanaian meals you can think of. Their delivery service is also very efficient. To have your meals delivered to your doorstep, contact them on 0544349770 or 0302522790.
Jam Rock Restaurant and Grill Menu and Prices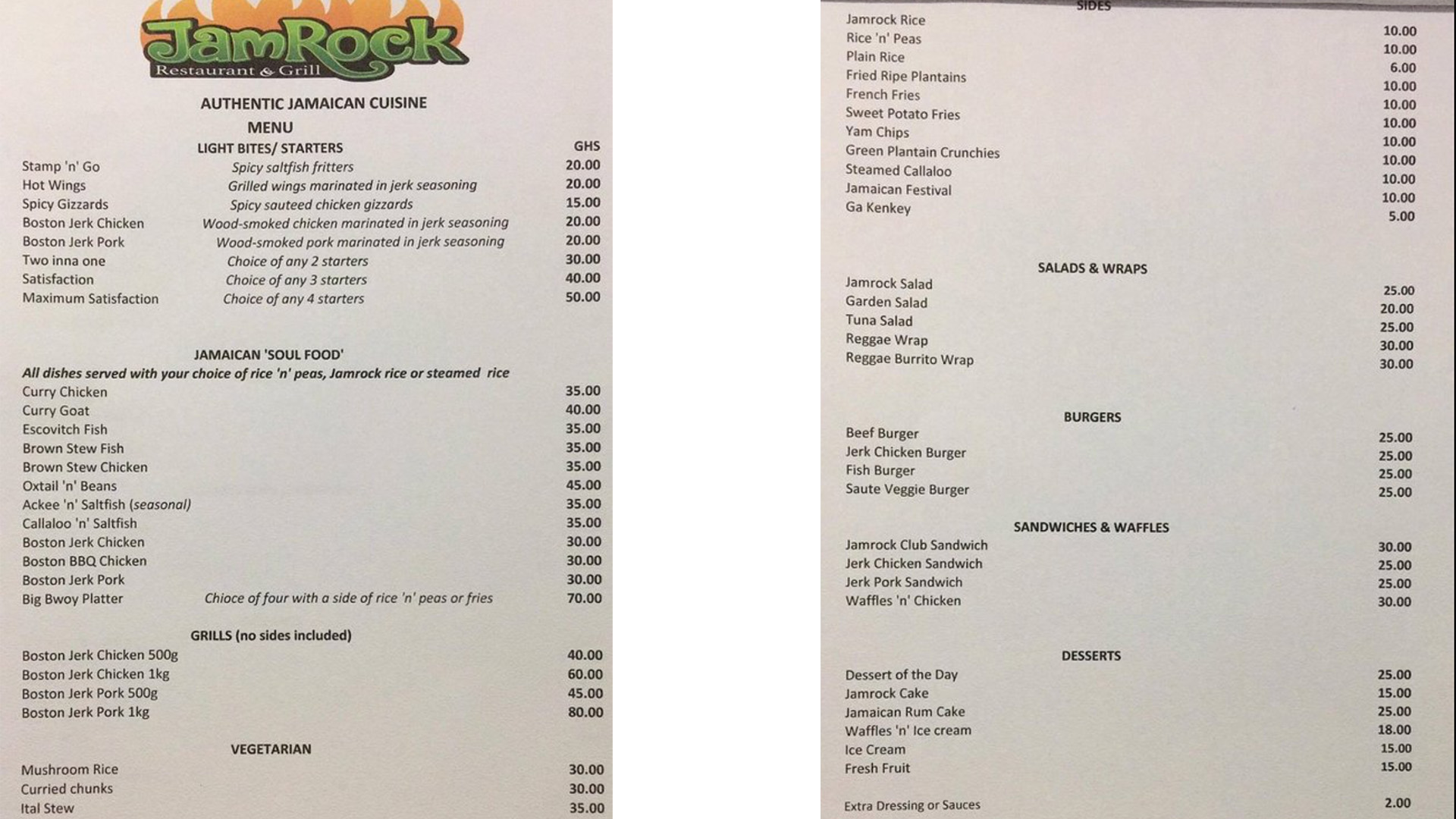 Chopshop Gh
What could be better than having terrific Ghanaian food cooked in healthy way? Prioritizing your health and of course your taste buds; Chopshop GH serves some of the tastiest local meals. Similarly, they have multiple delicious options to choose from and locations in strategic parts of the city to make your delivery option better. The number for the Osu branch is 0302779009, East Legon - 0302546328 and Dansoman Branch - 0302317695.
ChopShop Gh Menu and Prices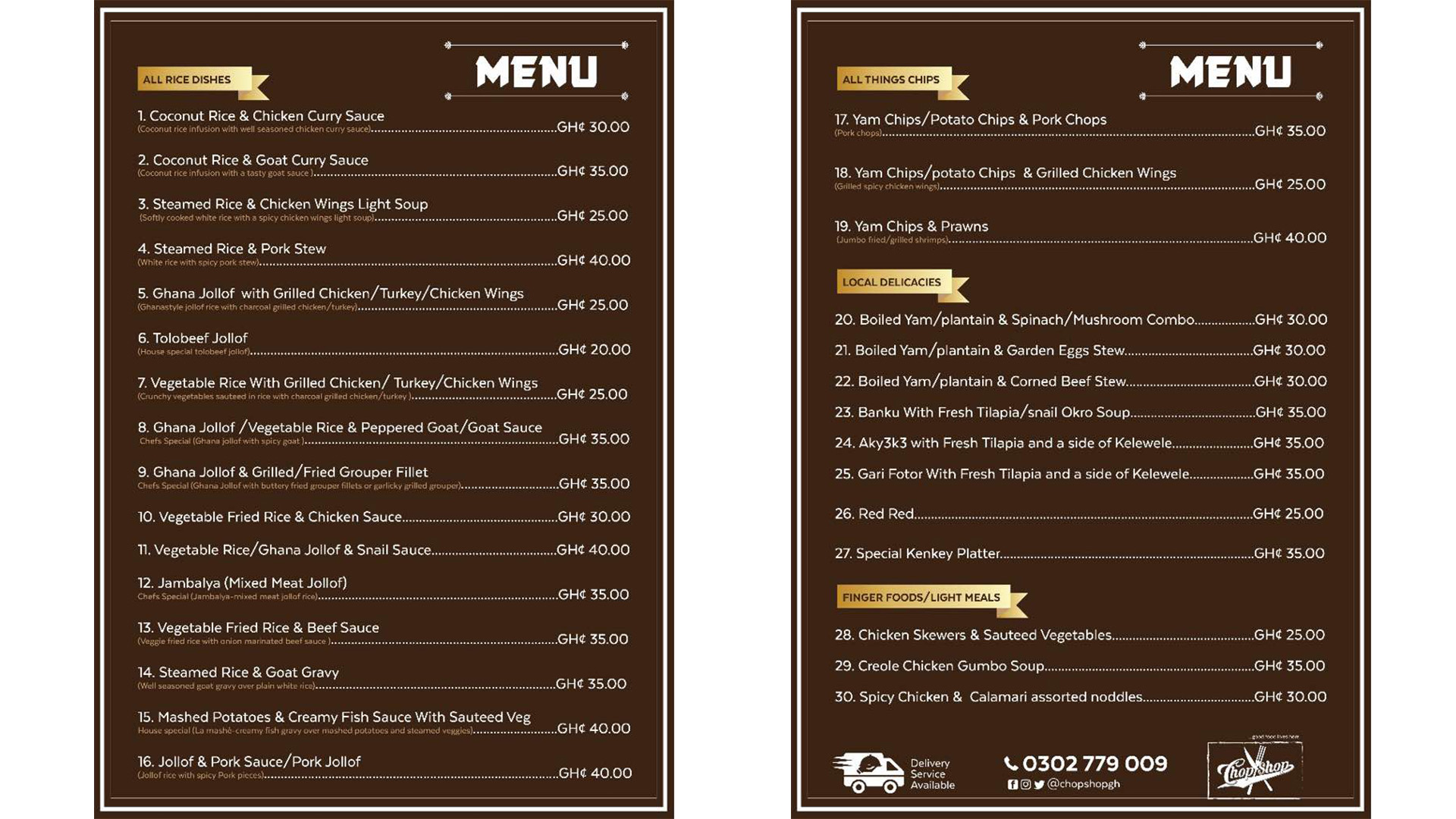 Starbites Food & Drinks
If you want to enjoy some of the popular meals from the US, Asia and Ghana, Starbites has got it on their menu. Their thrilling breakfast options, smoothies and signature dishes will have you overwhelmed with multiple options to choose from. The best part of this is their delivery options as they have branches across the city. Call them in East Legon on 0202 266 200 / 201 / 203 / 204, West Legon - 0202 266 205 and Tema - 0202 266 206 / 0501 339 606
Starbites Food & Drinks Menu and Prices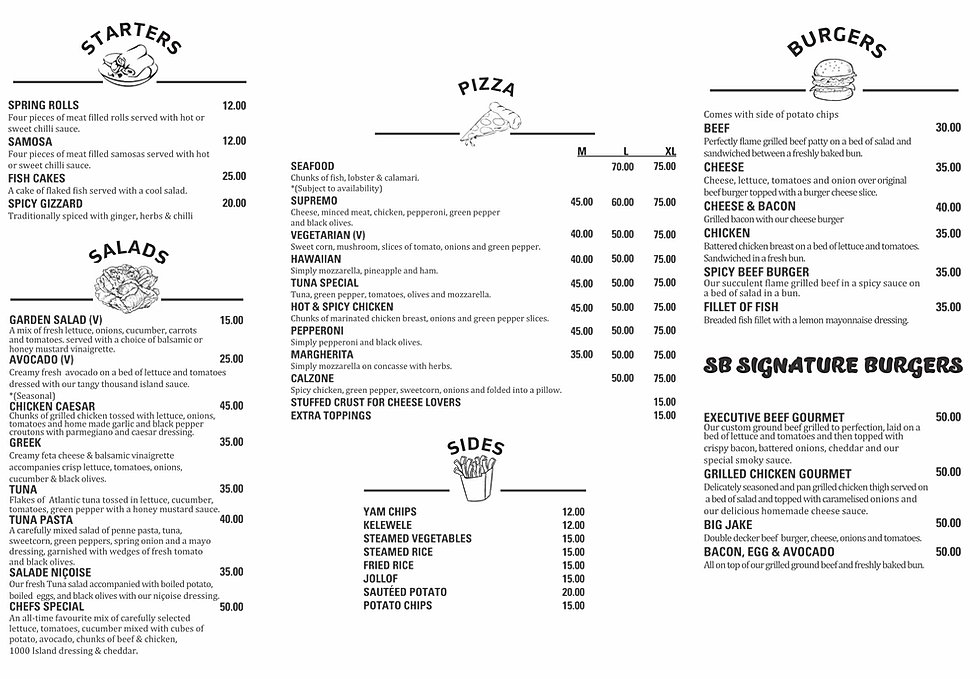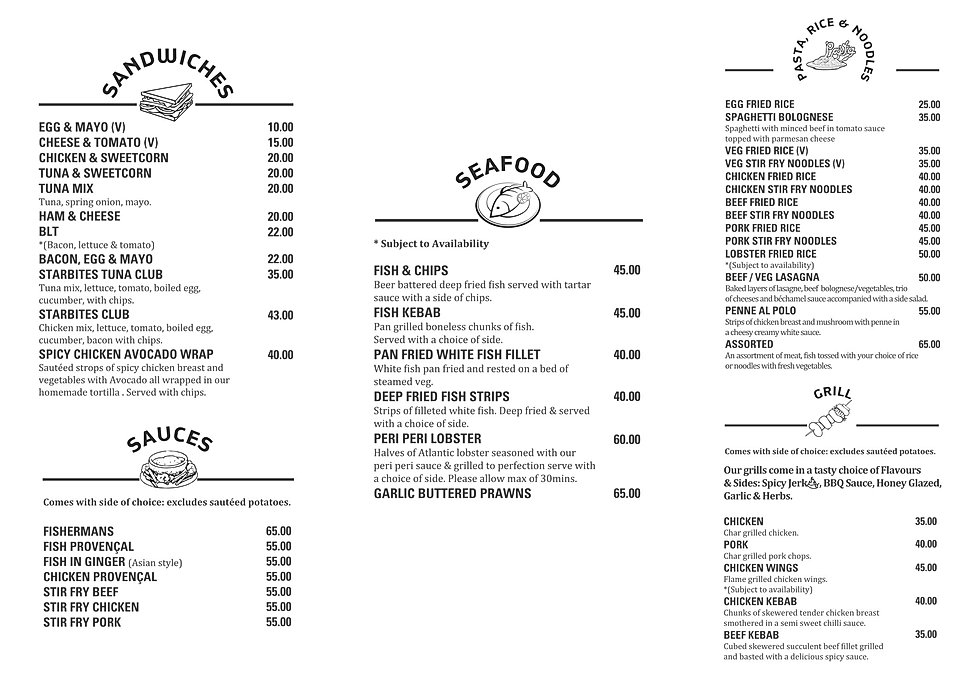 Koffee Lounge
Don't let the name fool you! Koffee Lounge in East Legon (with two locations: off the La Bawaleshie Road and inside the A & C Shopping Mall) offers much more than just coffee. Some of your favorite meals at the best and most affordable prices can also be found here. And now, you get to have them brought right to you! With great Chinese food options and comfort Ghanaian food you know take out just got more exciting. You can contact Koffee Lounge on 0553500412, 0553500315, 0246854306.
Koffee Lounge Menu and Prices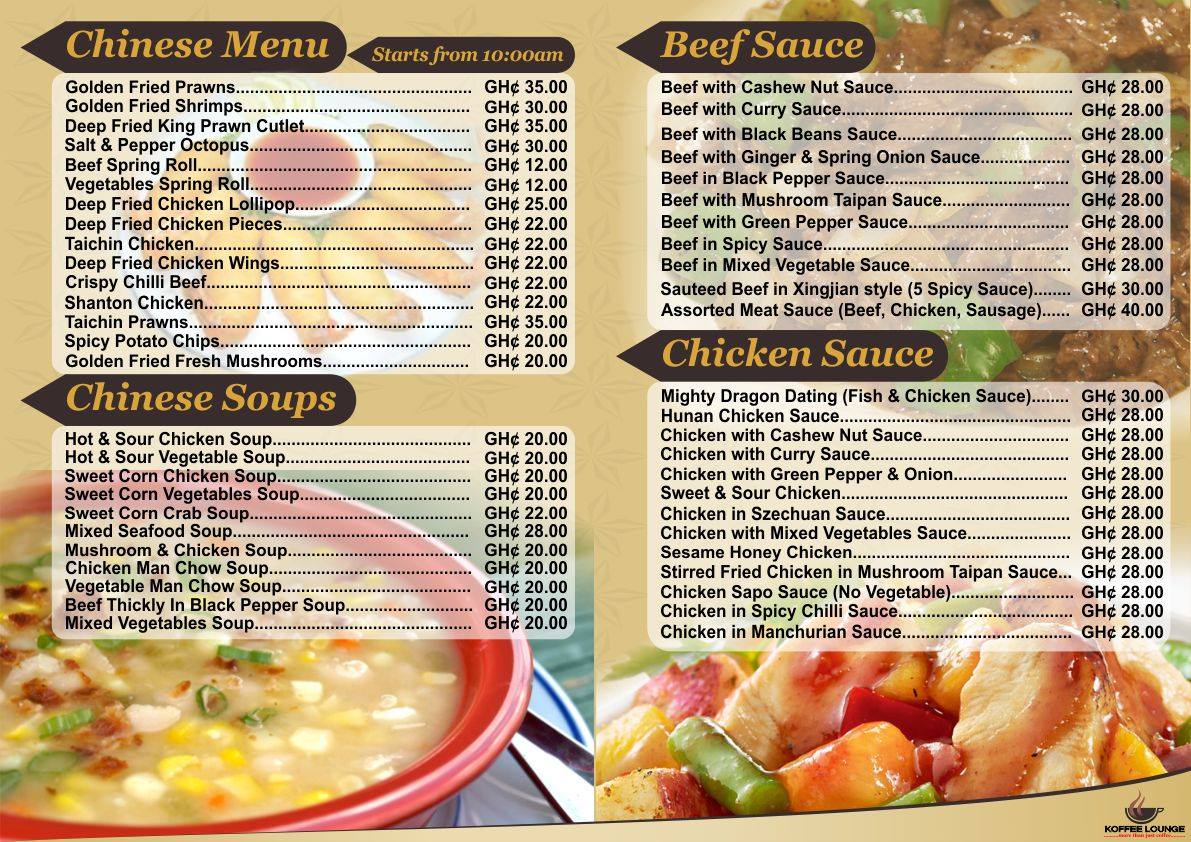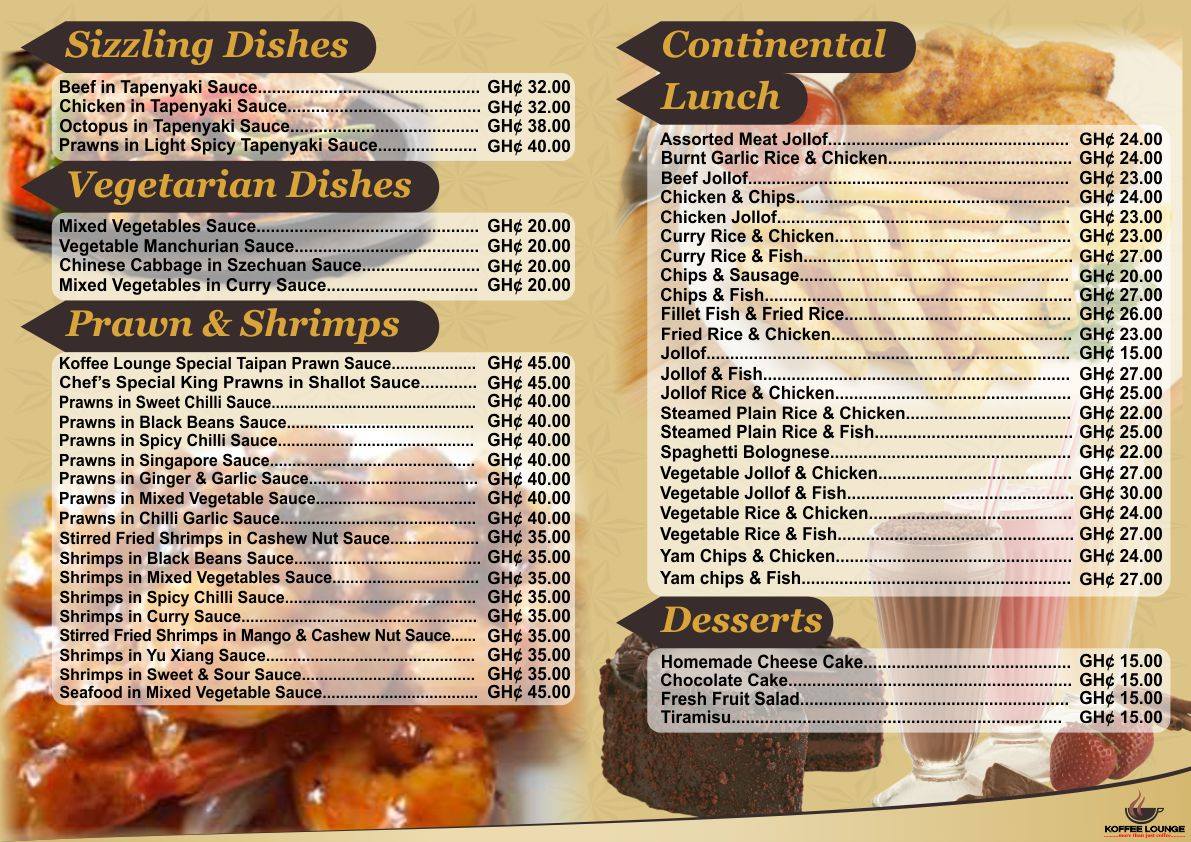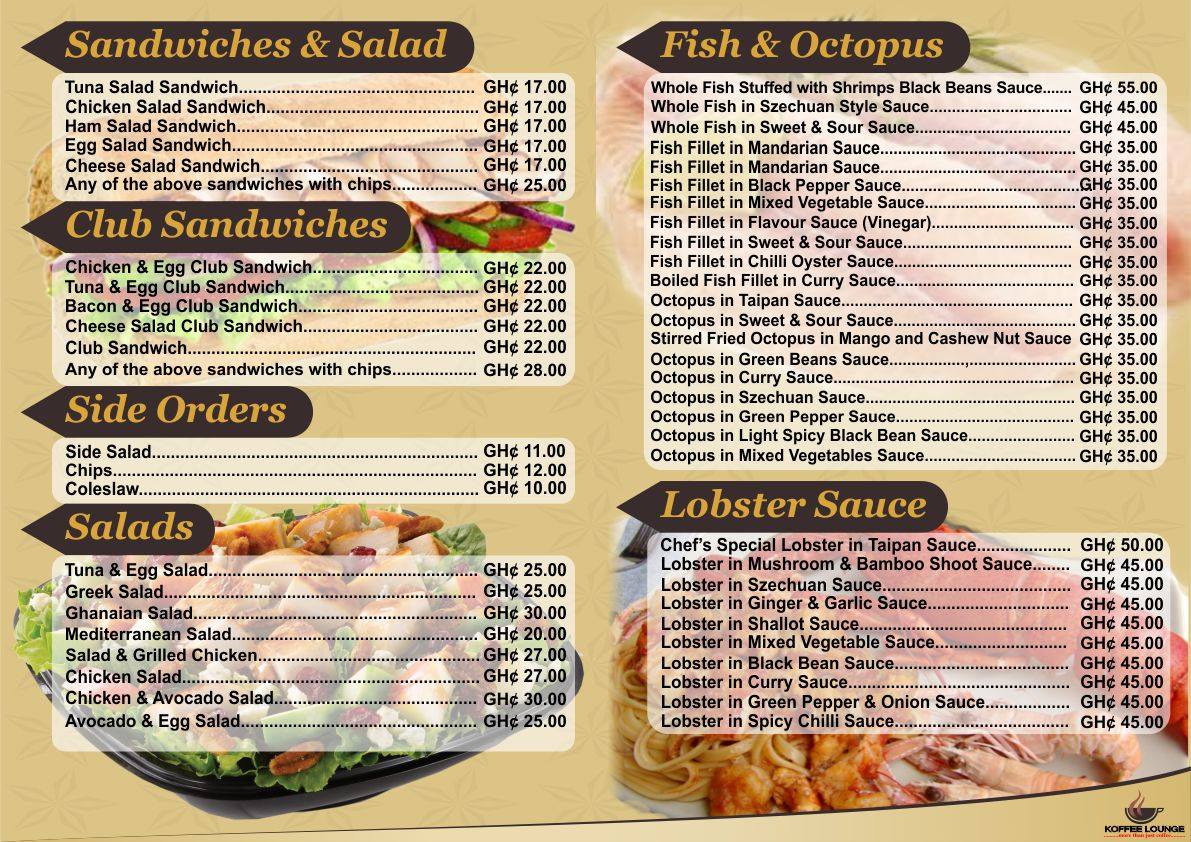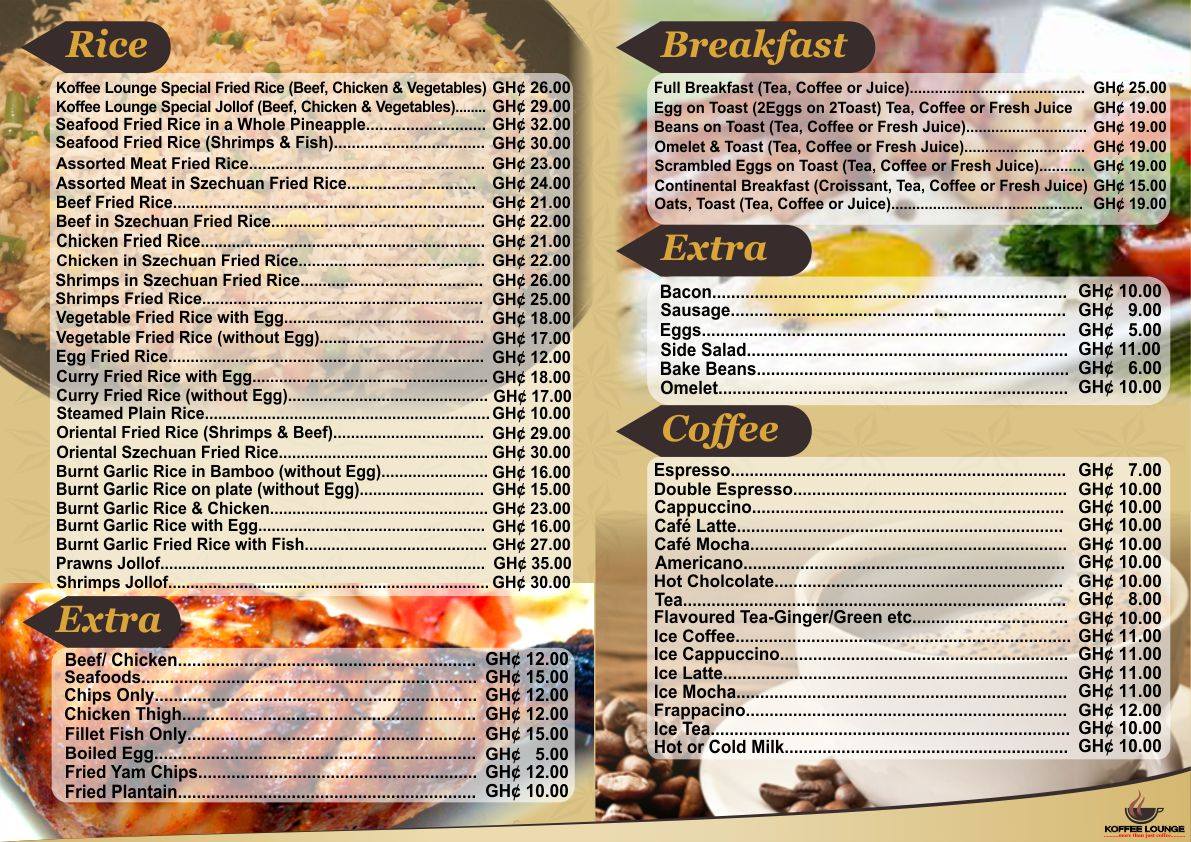 Azmera Restaurant
Azmera Restaurant located in the Roman Ridge Shopping Arcade in Accra, is a unique restaurant that offers an assortment of Ghanaian dishes in elegant buffet style. Labeled as one of the best places to get authentic Ghanaian and African food, Azmera also has a fascinating menu specifically for delivery.
With the option of a family platter menu and a regular takeout and delivery menu, your preferred local food can now be brought right to where you are. For orders from the family platter menu, the number to call is 0558708594, and for the regular delivery and takeout menu the number to call is 0302770606.
Azmera Restaurant Menu and Prices