15% - 50% Discount on All Items from Sebastian's Closet
🔥🔥HOT PROMO! 🔥🔥Come by our shop anytime from now till July 31st, 2020 and enjoy 15% - 50% discount on all our products.
Sebastian's Closet ATL offers you nothing but the best quality of Ready to Wear and Made to Measure Men's Clothing and Accessories. We have in stock clothing and accessories from 20 top luxury brands. We are offering from 15% to 50% discount on all our products:
Suits
Dress Shirts
T-shirts and Polos
Belts
Watches, and more...

We add new stock very often, so pass by anytime and you're sure to leave our shop looking your very best! Our customer service is the best. Kindly leave a review so other people can find us.
Promo Conditions:
Discounts range from 15% to 50% on a wide variety of products.
We accept both printed and electronic coupons.
Current promotion runs till the 31st of July, 2020.
You can enjoy the promo at our shop during all working hours.
We accept VISA and Mobile Money payment as well as other forms of electronic payment.
Open hours
Mon: 8:30 AM – 10:30 PM
Tue: 8:30 AM – 10:30 PM
Wed: 8:30 AM – 10:30 PM
Thu: 8:30 AM – 10:30 PM
Fri: 8:30 AM – 10:30 PM
Sat: 8:30 AM – 11:00PM
No Document for this coupon
This promo isn't rated yet.
---
Coupon like this one
---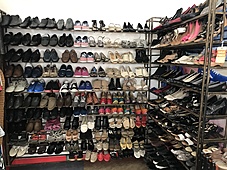 Come by Gladamak Clothing Concept between now and September 30th and enjoy from 10% to 30% Discount on all our clothes.